IMPORTANT UPDATE
All Church Members and attendees:
Although the Government has announced unexpectedly that Churches can reopen under strict conditions from July 4th (no singing for instance!) we are waiting for guidance from the National URC on how best to move forward. There are many different things to consider; from the health of our mainly older congregation, through to the deep cleaning of the building and Legionella testing of the water system that would have to be carried out before we can even consider formulating a phased reopening plan.
For the foreseeable future we will continue with our weekly services on our YouTube Channel (Text version downloadable from the panel to the right, audio available on request) - and please don't forget that the Minister and Elders are available as normal for Pastoral care.
God bless you all
Revd Sarah
Meet the Minister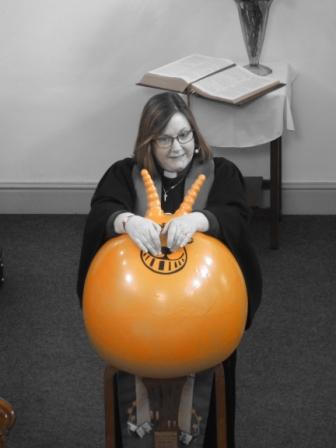 Originally from South Wales, Rev. Sarah Simpson came to Wiltshire in February 2014; immediately attracted to the church in Malmesbury by its warmth, friendliness and strong sense of mission to the town. Sarah believes that the church strives to live out the gospel and make it relevant for today with all the challenges that entails. In June 2020, she celebrates 24 years of Ministry. Her Pastorate also covers Cricklade and Royal Wootton Bassett.
If you notice a problem on this site, or you wish to suggest an addition or edit, please let our web chappie know. thank you.
SUNDAY WORSHIP
Every Sunday morning at 7am, our YouTube channel will be updated with this week's service - WATCH OUR SERVICES BY CLICKING HERE. You will also be able to view all past Services and announcements.
If you would like to read the service in text format, please email malmesburyurc@gmail.com and we will haoppily send you a PDF.
The URC also provides Daily Devotions and Acts of Worship, available on our dedicated page here.
Go in peace, to love and serve the Lord.
Revd Sarah Simpson
Where to find us
Main entrance is on St Mary's Street, SN16 0BJ (Do not use for Sat-Nav!)
VIRTUAL COLLECTION
Even though the Church building is closed, the work of the Church goes on. Please, if you would usually make a weekly Offering, consider doing so via the donate button below. Thank you.
Please bear in mind that we pay a percentage fee + 30p per transaction, you may wish to take this into account.
As a Church we strive to be:
A VIBRANT CHRIST-CENTRED COMMUNITY FOR ALL AGES; ACTIVE, UPLIFTING AND INSPIRATIONAL.